BACKGROUND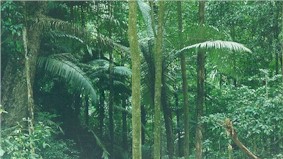 Tropical Rain Forest
The state of Kedah is one of the states in Malaysia which is covered by Tropical Forest that has the most complex natural ecosystem in the world. Tropical Rain Forest is not only rich with flora and fauna, it also plays an important role in controlling the stability and quality of environment. Forest is also the habitat of wildlife apart from acting as the deposition of genetic resources as well as become the major source of revenue for the importance of national socio-economy.
Forestry sector in Kedah is one of the main contributor to the state revenue. Forestry sector also give nearly 6,550 job opportunities to the people in this state through forest harvesting activities and wood based industries.
Therefore, forest area in Kedah need to be perfectly and systematically managed in order to keep its importance to nature and human. Based on this policy, the Kedah State Government had established the State Forestry Department in 1923 (Edward, 1950). This is followed by the gazettes of forest area as Permanent Reserved Forest apart from legislation and enforcement of law and regulations related to forestry.
Apart from responsibles for the management and administration of forest area in this state, Forestry Department is also responsible for the strategy arrangement based on the policies which have been fixed by the government so that its management become more effective and efficient.
View of the forest road