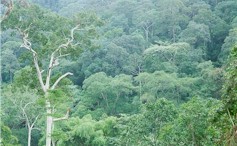 Forests in the state of Kedah
Assalamualaikum (may peace be upon you),
Thank you! Thank you!
Thank you for visiting Kedah Forestry Homepage.
Feel free to inform your friends and relations about this new website, especially those who are nature-lovers. Bring them along to explore the forests in the state of Kedah. We apologise for any inadequacies. Please forward your comments, feedbacks or suggestions to us so we can improve this site.
This website is a small gesture towards implementing Information Technology, which has become the main agenda here in Malaysia. Every government agency has to support the government's effort to make Malaysia the regional leader in IT via Multimedia Super Corridor (MSC) and the introduction of National IT Agenda. As a show of support, we in the Kedah State Forestry Department have taken the initial steps to prepare our staff and expose them to the latest in information technology.
This website is produced over the initiative of our own staff. It is aimed as a mean of preparation to publicize the latest information about the forest in Kedah. Kedah State Forestry Department is responsible for the administration and the management of the forest resources in order to produce the maximum benefit to the state. We are comitted to carry out this responsibility to properly manage our forest so that we can achieve out target to be best state in forest management.
Through this website you will be able to get information on the status of our forest resources and on how we managed our forest resources and what are our plans to develop rehabilitation works on logged forest. Information on forest harvesting also included together with enforcement and legislation. Apart from that, it touched a little on wood based industries in this state and other things included are forest plantation and district forest offices. What more interesting is you are able to read about and see the beautiful flora and fauna pictures of recreational forests in this state. Feel free to revisit us if you like.
Lastly, the information in this site will give the picture to the society about the roles play by the Forestry Department in managing and developing forest resources in this state. Highest gratitude goes to all the staff who involved in making this wonderful site a reality. Hopefully, Kedah Forestry Department will always give the best service to the public society and also in achieving objectives to implement sustainable forest management during the year 2000.