08.03.1999 - A visit to Gulau Range
The visitors in front of a lorry loaded with timber
On 8.3.1999 (Monday) 13 Assistant Administrator had a study / working tour to Gulau Range in the district of Sik, one of the range in Central Kedah. At Gulau they were given briefing about the duty and the function of Forest Checking Station by the Officer-in-Charge (Forester Mohd. Nasri bin Mohamad). At that time there were a few lories loaded with timbers waiting to have the timber measured and the royalty assessed.
The briefing given was a new knowledge to the group especially for Mr. Ahmad Radzi Othman and Mr. Abdullah Abdul Rahim. They had just joint the Southern Kedah Forestry Office on 1.3.1999.
After the briefing, the group moved to compartment 20 Terenas Forest Reserve with 4 Pajeros dan 2 Land Rovers. Accompanying the group are foresters from the Gulau range.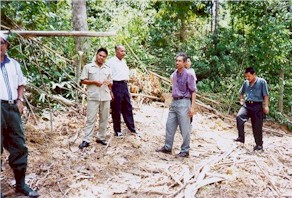 A briefing about logging activty
At compartment 20 Terenas Forest Reserve there is a logging activity. The area is licensed to a company called Guar Cempedak Sawmill and the contractor was Kooi Siong Construction. The logging area was about 311 hector and the license number was KT.01-06-98.
When the group arrived at the logging station, they could see 3 lories were waiting for their turn to be loaded with the felled timber. The timber then will then be sent to sawmill.
The group was also given a briefing by the Acting Ranger, Mr. Ahmad bin Md. Dun about the logging activities and the group were informed that only about 10% of the area remain to be logged. The group enjoyed the lunch given to them by Central Kedah Forestry office before they left, at about 2.50 p.m. (Reported by: Mohd. Azali)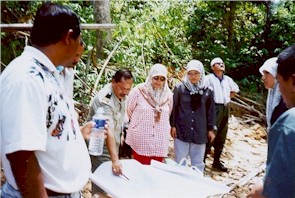 The Acting Forest Ranger briefing the visitors
Back to Events